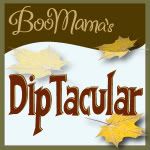 Welcome to A Girl and Her Recipes :)
Thanks for taking a minute to stop by and see my yummy recipe blog. It's pretty new so you'll only find a few recipes. But I promise, they are YUMMY.
Football season is pretty serious here in Longhorn Country. And with football season comes lots and lots and lots of dips. So when I found out that BooMama was having a DipTacular tour of blogs, I was so ready to write this post. Enjoy :)
1 pound Bob Evans Zesty Hot Sausage Roll
1 (16 ounce) can baked beans
1 cup Bob Evans Wildfire Barbecue Sauce
1 3/4 cups fresh diced tomatoes
1 1/2 cups diced celery
1 1/4 cups diced onions
1 1/4 teaspoons garlic powder
Hot sauce to taste
Salt and Pepper to taste
Garnish Options:
3/4 cup shredded Cheddar cheese
1/3 cup sour cream
1 large bag tortilla chips
1/4 cup green diced onions
DIRECTIONS:
Crumble and cook sausage in a large skillet or soup pot, over medium-high heat until browned. Carefully drain off excess drippings. Add celery and onions to sausage and continue to cook over medium heat until vegetables are slightly tender and sausage is no longer pink. Add baked beans, barbecue sauce and mix well. Add tomatoes, garlic powder, hot sauce, salt and pepper to mixture. Simmer together for 5 to 10 minutes and serve in a large bowl. Garnish with cheddar cheese, sour cream and diced green onions on top if desired. Serve with tortilla chips. Refrigerate leftovers.

Seven Layer Dip

INGREDIENTS:
1 (16 ounce) can refried beans (traditional variety)
1 (4.5 ounce) can chopped green chiles, undrained
1 tablespoon fresh lime juice, plus
2 tablespoons fresh lime juice for avocado layer
2 teaspoons chili powder
1/4 teaspoon ground cumin
Salt
3 avocados, halved, pitted, flesh spooned out
1 cup sour cream
1/2 cup mayonnaise
1 cup salsa (drain to equal 1 cup if salsa is especially runny)
3/4 cup sliced canned black olives, drained
1 cup grated pepper Jack cheese
1/2 cup thin sliced scallion greens, green part only
DIRECTIONS:
Mix beans, chiles, 1 Tb. of lime juice, chili powder, cumin, and a pinch of salt in a small bowl. In a second small bowl, mash avocados with a fork; stir in remaining 2 Tbs. lime juice and 1/2 teaspoon of salt to make guacamole. In a third small bowl, mix sour cream and mayonnaise.

Spread bean mixture, then guacamole, then sour cream mixture, and finally salsa over the bottom of a 9-inch deep-dish pie plate or similar size pan. Sprinkle with olives, then cheese. (Dip can be covered and refrigerated up to 2 days) To serve, sprinkle with green onions.
And finally...a family favorite;
Texas Caviar
INGREDIENTS:
2 (15.8 ounce) cans black-eyed peas, drained
1 (14.5 ounce) can petite diced tomatoes, drained
2 fresh medium jalapenos, stemmed, seeded and minced
1 small onion, cut into small dice
1/2 yellow bell pepper, stemmed, seeded and cut into small dice
1/4 cup chopped fresh cilantro
6 tablespoons red wine vinegar
6 tablespoons olive oil (not extra virgin)
1/2 teaspoon salt
1/2 teaspoon ground black pepper
1/2 teaspoon garlic powder
1 teaspoon dried oregano
1 1/2 teaspoons ground cumin
DIRECTIONS:
Mix all ingredients in a medium bowl; cover and refrigerate 2 hours or up to 2 days. Before serving, adjust seasonings to taste, adding extra vinegar, salt and pepper. Transfer to a serving bowl.
Yummy Yummy!! Enjoy.